Library Card
Your VCC ID Card is your Library Card. You can get your card at the Registrar's Office. You will need to present your VCC ID Card to borrow library materials.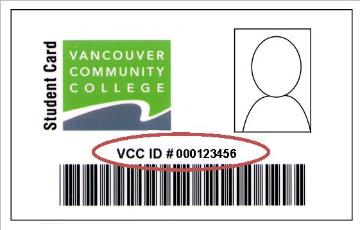 VCC students can borrow items from other BC post-secondary libraries (including UBC and SFU). To borrow items from other BC post-secondary libraries, VCC students must show their VCC student ID card and proof of current registration. Stop by the VCC Library Service Desk to obtain proof of registration.
Former VCC students are eligible for a free Community Borrowers' card.
Library Account and MyVCC
Your Library account lets you access your library record information (requests, fines, checked out items)and renew items. Your myVCC account lets you access online courses, grades, VCC email, tax receipts and more.
Library Account
Check the status of your hold requests
View and renew your checkouts
Review your overdue materials and fines/fees
View your bookings
See your preferred searches
View your reading history
Create lists
MyVCC Account
Online courses
Grades
Course registration
Tax receipts
Student email
Personal information
To login:
To login your Library account, myVCC or to the library computers, use your student number and password.
Students
Login with you student ID number and your password (default is your birth date: MMDDYY).
Example: January 18, 1975. Your Password is: 011875.
Employees
Login with your network username and password.
Watch this video on how to reset your VCC student password (pin)